OFFERING THE LARGEST VARIETY OF ORGANIC MICROGREENS & SPROUTING SEEDS
Shop Organic Microgreens & Sprouting Seeds
---
Corporate Gifts Your Clients Will Grow To Love
Our Microgreens Grow Bags are ideal as corporate gifts or company events. They make for great gifts for other occasions too - such as birthdays, weddings, feel better gifts.
And we guarantee your recipients will grow to love them!
Labels can be customised with your message, logo or branding. Each Grow Bag is packed with our specially formulated germination potting mix and a pack of organic, GMO-free seed pack. Drop us an email at info@everythinggreen.sg for bulk orders.
Take Me there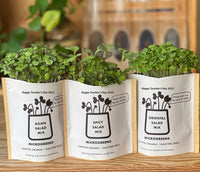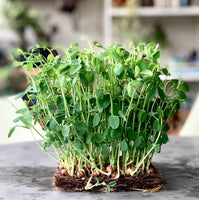 Why Buy From Us?
We partner with a variety of farms, all of which are certified organic to bring you healthy, sustainable, GMO-free seeds. These seeds were grown using environmentally sustainable farming methods, without the use of synthetic fertilizer, pesticide, herbicide, or fungicide. And we have certificates to prove it!
We also grow and test all seeds we sell. So if it doesn't grow in our climate, we won't sell the variety.
Shipping within Singapore is free for orders above S$60. For orders below $60, we charge a flat fee of S$5. All deliveries are to your doorstep via local courier service.
Buy Seeds Now
Testimonials
Good customer service, product is reasonably priced as well. I purchased around 8 sets, 24 packets. Each set will have a box, so you can consider purchasing them as a christmas gift. If you buy in bulk, can also check with the seller if they can help you customise the message. Delivery took around 2 days, so it was pretty quick as well. Overall good experience and fuss free!

Ying Ying, review left on Google
Love the seed quality! My microgreens are growing really well. Sakina is also very knowledgeable and helped answer my questions after purchasing the seeds. Would definitely purchase again!

Shobana, R, Review left on Google
Honest, responsive, efficient, and reliable. The seeds are of brilliant quality and never failed to sprout! Thankful to learn to grow microgreens from Sakina through her informative workshops. She'd always go the extra mile with her patience and guidance. Highly recommended!

Melissa Tawin
Your microgreens are so easy to grow.  I think everyone should start growing them. It is easy, healthy and cheap! No need for farmland - just a place by the window. It is GMO-free and delicious to top it all.

Ruqxana, Founder & Food Sorceress, Cookery Magic Singapore
Everything Green is the best source of seeds in Singapore. They are very competitively priced and don't skimp on quality at all. After using their seeds for a considerable amount of time, I can say that the germination rates are absolutely excellent! I would also highly recommend their Microgreens beginner classes that really inspired me to start growing at home!

Mark Nathan