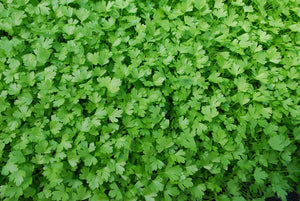 Celery Organic Microgreen Seeds NEW!
Regular price $0.00 $8.90 Sale
A light green micro that tastes just like celery but with a more strong flavour. Add this to your salad or sandwich.
Our seeds are certified organic, GMO-free, and non-treated.
A small caution to newbies. Celery seed is a very slow germinating and growing seed. It is more difficult to grow and is not recommended for beginners.
SPECIFICATIONS
SEED PRE SOAK : Yea
GROWING MEDIUM : Soil 
FLAVOUR : Like the actual celery but stronger. 
GERMINATION PERIOD: 14-21 days after sowing
METHOD:
Before Sowing
Soak seeds in cold water for at least 12 hours.
Remove water and wrap seeds in a wet paper towel.
Fold paper towel and place in a plastic bag. Fold bag and place in the refrigerator for 24 hours.
Fill your potting tray with good quality potting mix with organic compost. Spray water on potting mix. Sow your seeds on the mix evenly. Cover with 1/8 inch of soil. Celery seeds need light to germinate. A bright spot, out of direct sunlight, is ideal. Seeds can take 2-3 weeks to germinate so be patient.
Shipping
Delivery is free via private courier service for all orders above S$60. For orders below S$60, a standard delivery fee of S$5 will apply.  Please allow 2-3 working days for delivery.